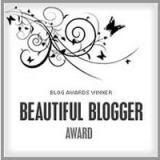 SmrtMama
has bestowed a blog award upon my white trash abode. So now I'm certain it is a beautiful blog because SmrtMama said so. And she's smrt.
There are rules involved. To accept the nomination, one must......
1. Thank the person who nominated you
2. Copy the award and paste it on your blog
3. Link to the person who nominated you for the award

4. List 7 interesting things about yourself
5. Nominate 7 beautiful bloggers
1. Thank you, SmrtMama. I think your content is has loads of merit and I'm glad to have found your blog.
2. Did it.
3.
Here she is
, folks. Isn't she pretty? I've learned lots in the short time I've been reading her blog. She makes me think.
4. This instruction is nigh impossible.
5. This one is quite easy.

Too easy. I can't stop at 7 because #1 interesting fact about me is my terrible fear of leaving someone out. No, it's not really very interesting, but there you are. Also, the title implies beautiful, as in aesthetically appealing, but I don't really pay much attention to that and have just gone with some beautiful people that I love visiting.
My amazing
Mom-in-Law, Inez
, who makes the best Wal-mart pie you've ever tasted. (I'll let her elaborate.)
Jessica
, who was once-upon-a-time an amazing young girl in my youth group who has grown up to be an amazing young mom in the frigid arctic circle.
Jennie C.,
who inspires me constantly with her gentleness and her loving nature. She reminds me to take it down a notch, look around me, and breathe in the delicious goodness all around me.
Jenni in KS,
who makes me think. She has patiently waded through theological discussions with me and even tolerated my bashing of classics such as East of Eden and The Good Earth. She has enlightened me through the years without ever making me feel like an idiot for needing enlightened. Reading her blog is like slowly sipping lemonade and stopping to notice the important details of the world. Like tree bark.
Christy
, who is an amazing mom to 3 amazing kids. Christy cracks me up and inspires me. She has an amazing strength that inspires me. Ha! I can't even type her name without smiling.
Lawanda
, who is real. The woman is down-to-earth and just plain fun. And she has goats.
Ginger
, who is just perfect. Seriously, the woman is just so sweet and is more than walking the walk, she's breathing it. The love of God shines through her every word in a most real and practical way. There I go, smiling again.
Shanna,
who is an amazingly talented woman. I don't know how she does it, but she does it beautifully. There might be laundry on the couch, but without a doubt, it will be the most welcoming and inviting couch you've ever visited.
Nikki,
who has flair. This beautiful gal is joy personified. She has a beautiful family and a beautiful perspective.
And Mike,
who is too manly to receive an award with the name beautiful in it. He's an amazing artist. I feel like a proud aunt, watching him grow and learn. He puts up with my cheek-pinching and lecturing like a good nephew should.
And Andrea, who has no link. Andrea's blog is set to private. But trust me, you're missing out. I met Andrea during the Beauty and the Beast play we put on last summer. She's a hoot. And she's nice. She's a good mom with a good heart. But I go weeks at a time without catching up on reading anyone's blog and I didn't realize hers was set to private until today. Actually, in all honesty, I haven't caught up on most blogs since Advent started. I'm sorry!
Interesting facts.....
We covered #1 (my paranoia)
#2 Uh.....um.....I can't think of anything.
#3 I can't lie to your face. I might be able to do it over the phone though.
#4 Seriously can't think of anything.
#5 Enlisted husband's help. One interesting fact is: "You're smokin' hot." This tells me he can't think of anything either.
#6 I have a rebellious streak that isn't keen on following instructions. So I'm giving you more than 7 links and less than 7 facts. There you are.
And if I accidentally left you off of that blog list, it was an accident. Honest.
***EDITED****
to add something I forgot about. Christy and someone else, Jennie? Jessica? gave me an Honest Scrap award ages ago. I never got around to putting that on here, so can we just combine the two and call it done? If you received the Beautiful award, consider yourself worthy of the honest scrap award.
The rules for honest scrap are identical, but you have to share 10 honest things. Interesting, not required. This I can do. I think.
1. I posted after midnight last night and had to reread what I posted first thing this morning to make sure I didn't do anything embarrassing.
2. My toenails are painted mermaid green right now.
3. They've been that way for far too long and the mermaid is losing scales left and right. It's kinda gross.
4. I don't tolerate wheat well. It makes me verrrrrry sleepy, slow-thinking, and bloated.
5. I've been eating it anyway. It tastes so good.
6. My coffee maker is broken.
7. I've been buying coffee at the local gas station. I could purchase a new machine at wal-mart, but I'm morally opposed. And they didn't carry any coffee makers that called my name.
8. I'm spoiled.
9. I'm married to the most amazing man on the planet who is somehow convinced that he's the lucky one. Perfect.
10. I have four of the most amazing children on the planet. They get it from me.
Okay, that last part wasn't honest. But they are amazing.
Thanks, gals!