Our greatest responsibility as parents is sharing the Word of God with our children. Most usually begin with sweet songs and stories that share the Truth of God. We sing to them while still in the womb. We answer their questions and fears with scripture. We cheer as they recite memory verses. We send them to sleep with Bible stories. And then we encourage them to search the scriptures for themselves.
Whether your children learn at home or at school, there will come a time that they are ready to delve into the meat of the word and begin their own Bible studies. For today's post, I want to share with you one of my favorite resources for this.
If you've read my blog for very long, you probably already know that I am a huge fan of
Classical Academic Press
and their laudable
educational resources
. We have used all of their elementary Latin courses, Poetry, Logic, and two of their Bible courses. Out of all of these, we have loved every single one.
God's Great Covenant is a challenging Bible course that takes children through the Gospels, showing how each book relates to each other and how they fulfill the Old Testament. This course is intended for students in 4th grade and up, though honestly, even I find it enlightening. If you have a younger student, I recommend CAP's
Old Testament courses
, which begin around 2nd grade.
What's in there?
The book contains 36 chapters, which fits nicely with a 36-week school year. However, the introduction really deserves a week of its own. Also, the end of each of the 4 units include extra activities that could be used for a light week of review and reflection every 9 weeks, which fits nicely into a Charlotte Mason style of study. With the extra introduction week and 4 weeks for the end of each unit, I prefer to use this with a 41 week schedule.
I tend to breeze through most introductions, but this one truly deserves a week for students to read. It will be an easy read, but very beneficial. This introduction includes a general introduction to the curriculum and 5 topical introductions. These are:
Historical and Political
Chronological
Geographical
Religious Introduction
Simon's World
As you can see by this list, students are given a true feel for time that Jesus walked the earth. Throughout the book, the study references the Old Testament and actively points out the fulfillment of God's promises. The maps are impressively easy to read and help make the story come to life. The traditions and politics of the time are explained so that students understand what is going on. Simon's World is a segment found at the end of each unit and is a story told by a fictional boy named Simon who describes his daily life during the time Jesus walked the earth.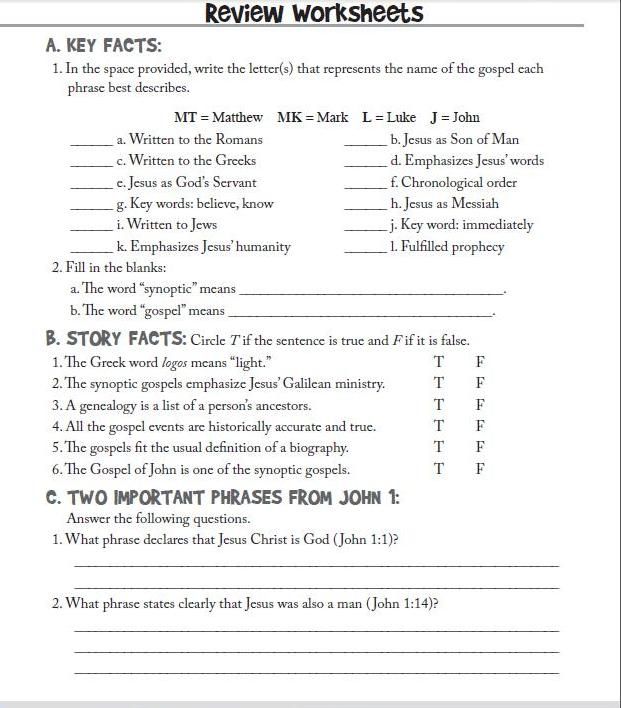 Each week begins with an informational page that includes memory verses and a chart that summarizes, compares, and contrasts the week's lesson.
Three pages are devoted to a lesson for the students to read and two pages are for review worksheets.
An appendix in the back includes optional quizzes for each chapter.
I found it worked best to have my student read the lesson pages for the first day and then work on the review worksheets for 3 days. These worksheets include several different methods of review to keep things interesting. While there are plenty of fill-in-the-blanks, there is also true/false, crossword puzzles, multiple choice, etc. to make it more interesting. Fridays are great for discussion and working through the quizzes orally. By reading the memory verses every day, students can easily memorize verses without even trying.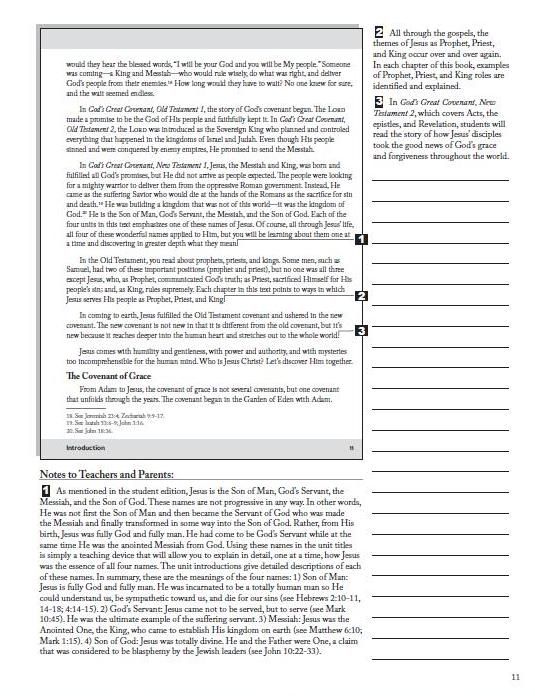 I'm not generally a fan of teacher guides and avoid them when possible. Sometimes I avoid the student guide and we just use the teacher guide, as I did with CAP's Poetry Course. God's Great Covenant is a course for which I recommend the Teacher's Guide. It includes:
A copy of the student book, with answers filled in
Pages that coincide with the student book.
Exceptional notes for deeper study and explanation.
Lines for note-taking during your own study time.
These are not at all necessary for the study, but are a nice addition. They are MP3 files of the teaching portions of the student book being read by Christopher Perrin. These are excellent for listening to in the car to reinforce what students have already studied or to help more auditory learners.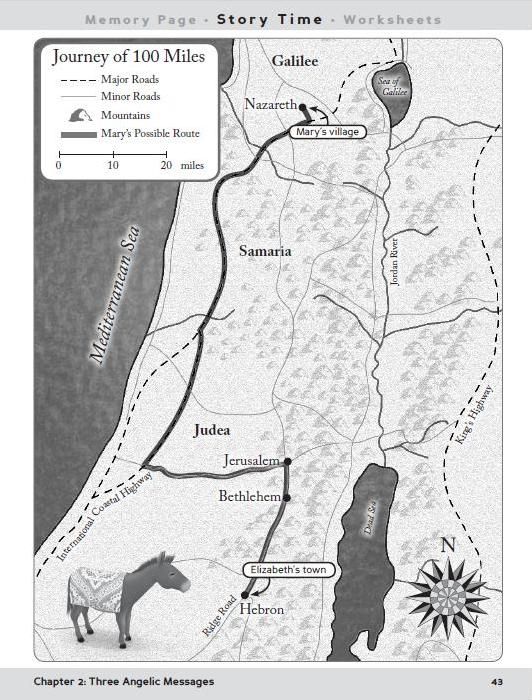 Things I love:
It doesn't give them their verses; it gives them verse references. Students actively use their bibles with this study to look up scriptures for themselves.

Each week contains a memory passage of 1-2 verses. By the end of each unit, students will have memorized a significant portion of scripture!

What you will not find: questions such as "How does this verse make you feel?" Instead, students are directed to observe facts and recognize truth.
What really impressed me was the fact that the text is engaging and easy to read, all the while teaching challenging and serious concepts.
Things I don't love:
The text in the teacher's guide is kind fo small. I'd prefer to not have room for taking notes in exchange for an easier to read text. Also, while the price is worth the quality of the content, it could get expensive if you have more than one student needing a workbook. I would love to see an option to receive the review worksheets as PDF files.
For more great reviews of this product, be sure to visit The Old Schoolhouse Magazine's
TOS Crew
.
Disclaimer: I received this material in exchange for my honest opinion as a member of the TOS Crew, and received no other form of compensation. For whatever they're worth, the opinions are mine and mine alone, as stated in my disclosure policy.