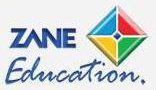 My children love to watch videos to supplement what we study in school. We frequently hunt up YouTube clips or Netflix movies to go with our latest subject. Because of this, I was excited to try
Zane Education
. Zane Education is a subscription-based website that specializes in visual learning, offering subtitled videos, quizzes, study tools, and lesson plans for students from K-12. Zane covers 11 different subjects with 260 individual topics and more being added all the time.
A great way to start is to have students watch an
online educational video
. After this, students can go through one of the
online quizzes
or utilize the available study tools. Lesson plans offer more ideas for teachers to help students learn. Choosing which video to start with can be a problem due to the sheer amount of material offered on the website. Zane strongly encourages subscribers to take advantage of their
Catalog Download/ User Guide
to begin navigating the site.
Things I like
The videos cover every subject. Yes, I could search through YouTube and find lots of videos, but I would have to wade through thousands of them to weed out the inappropriate videos that I don't want to share with my children. The Zane videos are already screened for appropriate and beneficial content.

With each video, there are ideas listed to study a little deeper. This is always nice for those times when you want to pursue a bit more of a unit study on a particular topic.

Quizzes let you know how well you've mastered a subject. I really like that when you choose to take a quiz, it first recommends you watch specific videos pertinent to the quiz topic. When I click on the Late Middle Ages quiz, it shares links to 5 different videos recommended to watch before taking the quiz.

Zane's Facebook Page is free and helpful.

Zane logs all of the videos you have watched. When I go to My Account page, I see a list of all available videos. The videos my family has watched have gold stars next to them. It's kind of neat to see what our options are and see how many we've finished.
Things I didn't like
As I said, there is a

lot

of great material on there, but navigation could be better. For instance, after a lesson on the Bubonic Plague, I thought I might show the kids a video about this time in history. When I did a "search" for the word "plague", the search result popped up with one match:

The Time Life And Works Of Geoffrey Chaucer And Chaucers Canterbury Pilgrims

. "Black Death" didn't yield any results, nor did "bubonic". When I did a subject search, clicking on the subject heading of "history" and then "world history", there were no matching sub-headings. However, when I click on "All avscroll through the list of all available videos, (scrolling past Art, Biology, Geography, and Health) I found 4 videos about the Middle Ages under the History titles. Under "Literature", I found several more.I found one video specific to The Plague under the Literature heading, History Through Literature sub-heading, The Late Middle Ages sub-sub-heading. Once found, the video lasted a hair over two minutes and was deathly dry.

Biology is listed as a heading, as is Science. Biology isn't a sub-heading under Science. This really falls under the complaint about navigation issues, but it needed said again. Navigation is an issue.

The videos are rather small and will not expand to full screen.

The videos will not load on my iPad. This isn't a huge deal, but it sure would be handy to pull out during lessons.

I generally have to log in a few times before it decides to remember me from one page to the next. After 2-3 times of logging in, it is fine and let's me stay on until I close the webpage.
All in all, there is some great stuff on the site, but the tightwad in me can't give it two thumbs up because of its pricing. There are different membership levels affecting price options. The first option is a free membership which gives access to the Demo videos and the Math videos. The math videos are all from Khan Academy, which offers the same videos free already. But Zane's free membership also gives you access to the quizzes and to the guides for all of their services, giving you a better idea of what other membership level you might be interested in.
Other membership levels give the options of subscribing to only one subject or only one grade level. The Gold Membership gives access to everything available in every subject and level. This membership is $17.99 per month or $197.89 per year (giving you the 12th month free) Currently, you can purchase any level annual membership for 35% off from now until the end of August if you use the promotion code
ZE764HSM upon checkout.
Disclaimer: I received this material in exchange for my honest opinion as a member of the TOS Crew, and received no other form of compensation. For whatever they're worth, the opinions are mine and mine alone, as stated in my disclosure policy.