The Old Schoolhouse Magazine is a company that has been around a while. They now focus on a digital magazine that is fabulous. They also sell some great digital homeschooling products. My favorite aspect of the company is that they organize an incredible review program that pairs excellent vendors with homeschooling moms and dads who share their honest opinions about the vendors' products. This is not the only company I write reviews for, but it is my favorite. Lest you think I'd be tempted to falsely gush about their latest resource, rest assured that this is my favorite company to write for because they value honesty so highly. I've given them plenty of negative reviews and they've yet to censor me.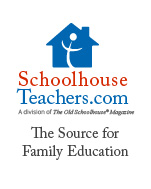 Now, on to the latest and greatest. The Old Schoolhouse Magazine now offers an education website called
SchoolhouseTeachers.com.
I don't even know where to begin. This site is indescribable. It is beyond the best Teacher Goodie Bag you could imagine. It's a library of resources, including full lesson plans, videos, forms, and more. Want a film-making class for your high schooler? Help for special needs? A book report class for your elementary student? They have that.
Career Exploration

Chemistry

College Choice

Economics

Figures in History

Filmmaking

Geography

High School Math

History

Home Economics

Lapbooking

Literature

Music - Voice

Reading Lessons

Special Needs

Technology

Writing

And more being added all the time
You can have Adam Andrews walk your students through the Socratic Method, Diana Waring bring history to life, WriteShop teach your child composition. With so many topics, you might think TOS has spread themselves too thin, but they've brought in experts in each field to teach each subject. It's like having the world's best tutors for your child.
On top of the courses available, there are also monthly themes on other subjects such as Photography, Gardening, Travel.
There is a section called Schoolhouse Dailies that is constantly updating. Currently, you can study the Summer Olympics each day with lesson plans that incorporate vocabulary, geography, and health! Other Dailies available at the moment include:
Daily Math
Daily Grammar
Daily Writing
Ditch the Desk, Hands-On lessons for K-5
Geography for Canada and USA
Everyday Easels(which covers forms of art such as skyscrapers, stonehenge, family scrapbooks, etc.)
Pre-K Reading lessons
Summer Shakespeare
This Day in History
This Month's Menu (that's right, they even have recipes!)
Membership to Schoolhouse Teachers gives you free access to The Old Schoolhouse Magazine's digital edition, including back orders. It also gives you free downloads of the Schoolhouse Planners. Free Schoolhouse Planners, y'all! Free e-books, free schoolhouse EXPO, free, free, free.
Oh! And the library! This includes monthly crafts, reading lists, copywork, homemaking helps, and more! Soon to come are nature studies and art appreciation.
I haven't covered everything, but I think it's safe to say that you could have a complete education with membership to this site and a library card. And the price? $1.00 for the first month and then $5.95 each month after that if you choose to continue. I still don't understand how this is possible, but I'm not going to argue. Even if you don't want to continue using it, $1.00 gets you a free download of their planners! I used to buy these for $40 apiece! They have teacher planners, high school planners, middle school planners, grade school planners, and special needs planners.
If you DO want to continue using it, $6 per month is still a steal. And after 12 months of uninterrupted membership, you'll receive a $25 gift certificate to the Totally TOS section of the
Schoolhouse Store
. In all honesty, I haven't found the Totally TOS section of the schoolhouse store yet, but I have plenty to resources to wade through as I swim my way toward it.
Disclaimer: I was given a free membership from the TOS Store in exchange for the publication of my honest opinion. I am, however, an affiliate, so if you choose to subscribe to the website, I do receive a commission. If you've read me very long, you know that I wouldn't promote it if I didn't love it, so I assure you that it is not an influencing factor in my positive review.