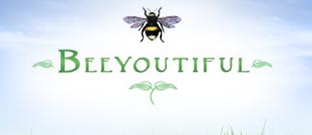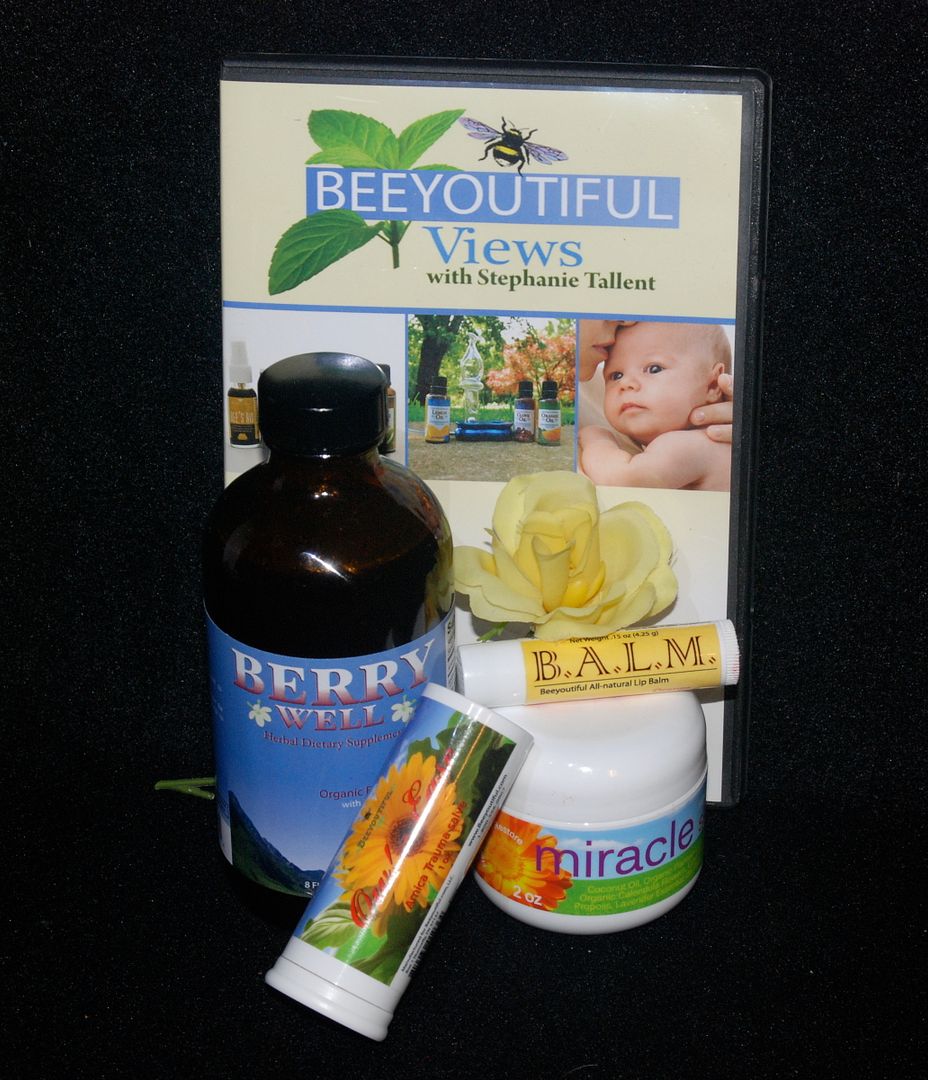 I have enjoyed
Beeyoutiful
products for years now, starting with Stephanie's
Supermom Vitamins
,
Bee Pollen capsules
, and then her elderberry/echinacea syrup that has since been replaced with the new
Berry Well syrup
. I've also enjoyed reading her
articles
on health and wellness. Having full confidence in the quality of the products, I jumped at the chance to review a set of Beeyoutiful products on my blog.
I loved opening my package of goodies. My girls helped me pull everything out, stopping to smell and taste the products. Beeyoutiful uses all natural ingredients and they are absolutely amazing in sight, scent, and flavor. Truly, I can't express just how good everything smells!

Ow-Ease
is the true miracle product in the package and I will ALWAYS have this on hand from now on. I desperately wish I had taken pictures so I could share the visual impact of how incredible this stuff can be, but I was too busy worrying about another emergency room visit to think of taking pictures at the time. Trust me; it's that good. Here's the story: Ethan was playing soccer with a friend early in the morning. The grass was slick with dew, so his friend decided to wear cleats. Ethan did not decide to wear shin-guards. Ethan received a good kick to the shins with those cleats. It hurt, but he went on with his day and never shared this with us. That night, he jumped and landed on that leg and nearly collapsed with pain. We iced it and sent him to bed, wondering what we'd find in the morning. Ethan has an incredible pain tolerance, so we were afraid we would be taking him to the E.R. for a broken leg. It was so terribly swollen and he was obviously in pain. We hoped things would be improved by morning, but we didn't hold out a lot of hope for it.
Sure enough, it was even worse the next morning. He could barely hobble on it and it was grotesquely swollen. I called the doctor, but just before we left, I smeared on a bit of the Ow-Ease Arnica salve. By the time we made it into the doctor's room, the swelling was noticeably decreased. The doctor looked at me funny for worrying about what turned out to be just a bad bruise. By the time we left the doctor's office, he was walking around just fine. If you didn't know Ethan and just how tough he truly is, you'd think I was silly. But we went from "it has to be a broken leg" to "can I go outside and play" within an hour!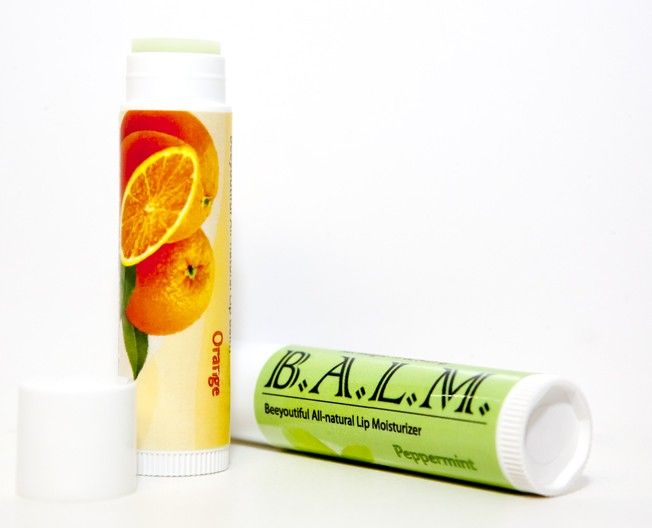 Before the Ow-Ease ordeal, the first item we sampled was the amazing lip balm. Fall had barely touched us, so no one was suffering from overly dry lips, but I was already shopping and hoping to be prepared for winter. My husband has carried Blistex in his pocket for years and, while I have purchased nearly every other brand of lip balm over the years, I've never found one that he liked enough to trade it off for. I don't like the ingredients in his usual favorite, so I've never given up searching for a replacement.
We won't know until the truly nasty weather hits and tries to chap his lips, but he likes the flavor, scent, and feel of the Beeyoutiful Lip Balm, so I am very hopeful.
The next item to try out was the Miracle Salve. Chris and I came home from a canoe trip with terrible sunburns. I layered up with aloe and he experimented with aloe on the back and miracle salve on the front. The spot with the miracle salve is the only spot that peeled. I honestly don't know if that's a good thing or not. It wasn't a very good experiment, but I'm curious to try it with other ailments. The little pot of salve smells so good and feels very silky. It has wholesome, healing ingredients and I'm very anxious to try this on my daughter's winter eczema when it shows up later this year.
Berry Well
is an Echinacea and Elderberry syrup that is a great immune booster. It also contains raw honey, bee propolis, and cider vinegar. This formula isn't as sweet as the old formula and you can definitely taste the vinegar, though it isn't unpleasant and seems to be just as effective. When my kids start sniffling and coughing, this immediately comes out of the cabinet. It is important to continue to dose them after they show improvement, at least for a couple days. I noticed that my children's symptoms were improving and I stopped giving it to them, thinking they were getting all better. They were improving, but after I stopped dosing, they seemed to have another whammy of a round hit them. Re-dosing brought quick recovery, but I will be sure to keep it up longer next time.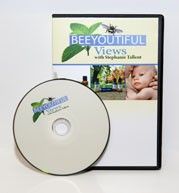 Stephanie believes that nature has many great tools for our health. But as she shares on her website, a tool is worthless unless one knows how to use it. This informative DVD is only
$3. On it, Stephanie discusses how she prepares products for her own family. It shares ideas for their products that you might not have thought of. Be warned, you'll end up with a wishlist for even more of their great products.
We're big fans of
BeeYouTifu
l products in this house. I am learning to grab these more natural remedies rather than conventional treatments, though I'm not learning quite fast enough. The same week that Ethan had his awful bruise, I also took Sarah to the Doctor when she woke up unable to move her neck. I was terrified of meningitis or tick-born illness. The doctor ruled these out and recommended motrin. I used the motrin and it never even occurred to me to try the Ow-Ease on her! I have no idea why I didn't think of it, except that I'm so used to using whatever the doctor recommends. But I'm learning and hopefully will be better prepared next time.

These items that I reviewed are only a small sample of their amazing products. Be sure to visit
The Crew for more reviews
of BeeYoutiful's other great items. Also, you can
sign up for their Newsletter
for more great information to add to your tool-belt.
Disclaimer: I received this material in exchange for my honest opinion as a member of the TOS Crew, and received no other form of compensation. For whatever they're worth, the opinions are mine and mine alone, as stated in my disclosure policy.