I've been singing since I was little. I remember rocking out with my sister to our parents' records, rambling along with road trip songs, and singing specials in church next to my Aunt Gail and her ventriloquist dummy, Buddy. As much as I loved singing, I never took choir, opting for band instead. Now, I love singing with my church family. Somewhere along the way, mostly thanks to
Extreme's More Than Words
, I learned how to sing Alto. But since I'm mostly guessing at the harmony parts, I tend to give a good chuckle to anyone I'm singing with. I love singing, but that doesn't mean I know what I'm doing.
Chris and I have raised the kids up, loving music, but not with any more skill than we've accumulated. I am eager for the kids to have some sort of formal instruction in singing, so I was grateful to be chosen to review
Vocal Coach
Singer,
a vocal training program created by Chris and Carole Beatty from
Vocal Coach
, who have over 40 years experience in coaching singers.
7 Training CDs:
Getting Started
Complete Breathing
Complete Warm-Up
Complete Tone
Complete Expanding Your Range
Complete Diction
Complete Performance
4 Workout CDs:
Daily Workout High Voice 1 & 2
Daily Workout Medium/Low Voice 1 & 2
Also included are these printable PDFs:
Guidebook – Full-size Instructional Guidebook to Ensure Success
Printable Lead Sheets – each exercise in our course, plus track lists
Personal Singer's Journal (Getting Started Journal & Workout Journal) to Track Your Progress
Vocal Coach Song Evaluation – Evaluation form to enable you to make more intelligent song selections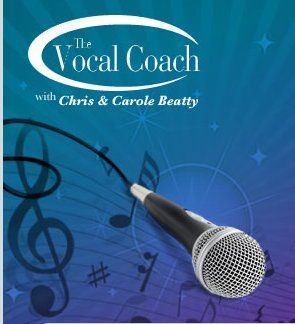 The Guidebook
should be read first. It's a general introduction to the whole thing and I made the mistake of jumping into the MP3s first. Don't do what I did.
The Breathing, Warm-up, and Tone MP3s
are next and they will be used a lot throughout the course. These walk you through the basics of breathing, posture, and warming up the voice. I had always poo-pooed this stuff before, giggling at the idea of singing Mee-Maaa-Mooo's, but these MP3s have helped me appreciate the importance of these elements in producing a consistent quality sound. They really are important exercises.
Expanding Your Range
helps you figure out what your current singing range is and then walks you through exercises that can increase that range.
Complete Diction
emphasizes pronunciation, enunciation, and articulation which are important for singing, but benefit the speaker as well.
Performance
walks you through every step of a performance from choosing songs and keys to facial expressions and body motions.
Daily Workouts
include exercises in developing your own voice with daily workouts.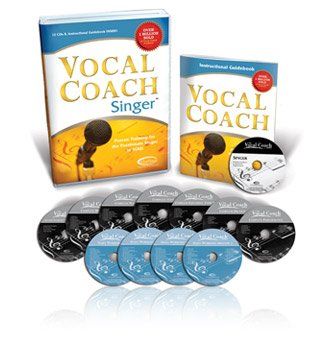 The lessons can be completed within half an hour each and can be worked through directly or given a week per topic, making it last around 10 weeks. They are great to have in the car for practicing.
So...what are they like? The content is excellent, but they are reminiscent of
instructional films
from the 1940's. This didn't bother me a bit, but if your skin crawls at such things, you will want to avoid this set.
Vocal Coach Singer is available as a download or as an 11 CD-set. The cost is $99.99 for MP3s and $119.99 for the CDs. According to the website, these instructions are equivalent to $2000.00 worth of personal voice coaching time. If that is true, then this is a steal.
Exams and Answer Keys
are also available online for free.
Vocal Coach
has two different programs. Vocal Coach Singer is geared toward students aged 13 and up, though younger students can join in. For younger students, you might be interested in their program Teaching Kids to Sing. For other reviews of both programs, be sure to check out the Crew Reviews.
Disclaimer: I received this material in exchange for my honest opinion as a member of the TOS Crew, and received no other form of compensation. For whatever they're worth, the opinions are mine and mine alone, as stated in my disclosure policy.