The girls and I were happily working through chemistry last semester and had planned to continue...but then came an opportunity to review
Apologia's Zoology 3
, and I couldn't resist jumping on it. My family has LOVED the
Apologia
Exploring Creation series and the girls were excited to read another. We've reviewed Apologia products before and we have never been disappointed. This time was no exception.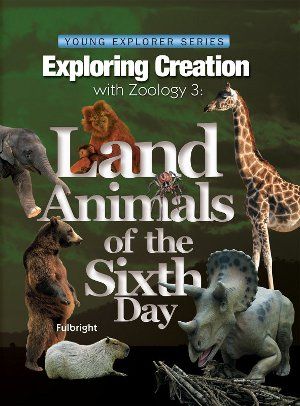 How it works:
The book contains 14 chapters and each chapter is intended to take two weeks to complete, doing science two days per week. We opted to do science 4 days per week, but still take two weeks to complete each chapter. This allowed us to take our time, work in small increments, and work through our journals as we read from the book. The chapters include around 14-18 pages of reading. It is interesting reading, but it is FULL of information and I found that my girls retained the information better in small, daily chunks.
Besides the reading portion, many chapters also includes a
Try This!
portion, which include activities such as wrapping your thumb to your index finger for a few hours to learn about the beauty of opposable thumbs; crushing leaves in plastic bags, one with stones in it and one without, comparing the results to learn how gastroliths work; or simply practicing what you would do if you ran across a bear in the wild.
Every chapter ends with:
What Do You Remember?
This is a set of great questions and prompts to jumpstart the student's memory and start some great discussions.
Map It!
As animals are studied, students can mark them on a map, showing locations where you can typically find the animal.
Track It!
This section includes pictures or drawings of animal tracks related to the lesson, focusing on tracks you would find in North America.
Notebook Activities
Students create their own Book of Knowledge as they work through the book, with suggestions such as creating a newsletter, comic strip, or timeline.
Experiment
The experiment section has practical activities that are fun for everyone. Study animal camouflage with M&M's and colored bits of paper, study a dog's sense of smell with Jell-O comparisons, or learn about the giraffe's high blood pressure with a water bottle. Some projects are bit more difficult, such as capturing animal tracks in cement or dissecting owl pellets.
What it contains:
Zoology 3 is all about the animals of the 6th day. This book is the 3rd in the Zoology line and it did include some references to the first two books, which my family has not used. It still works fine, reviewing information previously taught, but the reviews are brief and it does assume students have prior knowledge about some facts that my students did not have. Still, it stands independently and wasn't too much to overcome. The full table of contents and a shopping list for all of the lab requirements is
available online.
A lab list that includes M&M's? I'm on that. The basic topics covered include:
Carnivorous Mammals
Caniforms
Feliforms
Marsupials
Primates
Rodentia
Ungulates
Artiodactyla
Squamata and Rhynchocephalia
Reptiles and Amphibians
Dinosaurs
Arthropods
Gastropods
I was thrilled to see my girls learning these words and understanding them. I think they were a bit impressed with themselves, as well. Jeannie Fulbright writes the books in this Young Explorer Series and she has a talent for teaching students, sharing data and piquing their interest. Samples are available online, so that you can get a feel for the material. If there are any deeper questions about the material, I think they will be about the Dinosaur chapter, so I'll try to address that here.
Obviously, the book is written from a Creationist standpoint. It teaches that dinosaurs existed at the same time as people did. Not everyone agrees with this standpoint, but even if your family does not, it makes for great conversation. Personally, it is what my family teaches, but I also think it is important to discuss other beliefs and the evidence on which they are based. There IS evidence to support the creation of dinosaurs on the 6th day, and while that evidence is discussed, it is not the main thrust of this chapter. Only 3 of the 16 pages discuss this evidence. The rest of the chapter gives an overview of the major dinosaur types.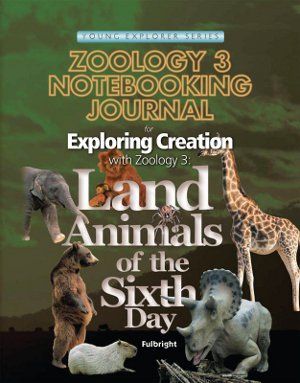 This is a great time to introduce the Notebooking Journal, available as a companion to the textbook. It contains excellent stickers of the 15 different dinosaurs covered, which can be added to maps to show where their remains were discovered. I had never used the companion notebooks in our studies before and I had no idea it contained so many colorful, interesting additions to the textbook lessons.
Through the years, I've seen these journals in the store and quickly dismissed the idea of using one based on the cost. I try to keep expenses down as much as possible and it seemed like a superfluous expense. However, the moment I opened the package and held that journal in my hand, I knew it was a perfect fit and that I would happily buy a journal to go with every book from now on. In fact, within minutes, I was ordering an extra journal so that each girl could have her own. That's big, people. I don't buy material if I can help it.
The journals include an outline schedule, breaking the lessons down to spread over 28 weeks. There are plenty of lines and boxes for students to write and illustrate notes as they read (or are read to.) There are Review Questions, Copywork, Vocabulary activities, suggestions for further study through DVD's and books, Project pages, Scientific Speculation Sheets, and more.
The "more" includes colorful lapbook pages that can be glued into the journal. They are basic and don't require much craftiness at all, but make a nice addition to the lessons. Also included are "Map It" stickers, with colorful animal pictures to add to your map.
The copywork portions provide options for print or cursive.
For younger students, there is even a
Junior Journal
! My youngest is 7 and has been doing fine with the regular journal. There is quite a bit of writing involved though, so reluctant writers might prefer the Junior Journal.
The textbook is available for $39.00 and the accompanying journals are available for $24.00, though I have seen them go on sale occasionally for $16.00. Remember, I don't like to spend money, and I really mean it when I say that both the textbook and the journal are well worth every penny.
The textbook is intended for grades K-6th, but my older students enjoy listening in. My 8th grade son still enjoys picking these books up to read for fun. I'll admit, I'm...well, no need to discuss age; let's just say that I'm older than my 8th grader...and I enjoy reading these books.

Disclaimer: I received this material in exchange for my honest opinion as a member of the TOS Crew, and received no other form of compensation. For whatever they're worth, the opinions are mine and mine alone, as stated in my disclosure policy.