Every homeschool mom has their own "thing" that leaves them second-guessing their ability to teach. For me, that thing is art. I love art, but I have no background resources to draw on when it comes to teaching art to my kids. I feel completely inadequate in this area! My kids absolutely love anything remotely related to Art and study it every day if I let them. I tend to resist unless I have a program that is open-and-go and is completely spelled out for me. And if that program is also of a top-notch quality, well, that is just fabulous.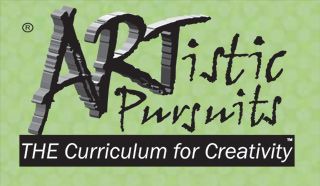 ARTistic Pursuits
is a solid option for a homeschool art program. This company has been around for a while and has earned quite a reputation, winning Practical Homeschooling Reader Awards since 2003
We used them several years ago and loved their Grade 4 book. Recently, we used a book from their High School series and were as impressed as ever. ARTistic Pursuits recently released 3rd editions of their books, expanded to include more lessons and revised for greater understanding. There are two available High School courses. We used
High School 9-12 Book One: The Elements of Art and Composition.
My kids have loved it!
It is a High School level book, worth one credit when completed in full. It is recommended for ages 14 and up. However, all of my children wanted to sit in on art lessons and even my 7 year old enjoyed this program. I have to put my foot down and insist that we follow the recommended scheduling of two one-hour classes each week. Otherwise, they would be happy to do it every day, even if it meant skipping math.
The 92-page book includes 68 lessons. Following the recommended schedule, this is a 34 week course that gives you 68 sketches for your student's portfolio and a good amount of knowledge. The lessons are divided into units, which concentrate on specific themes and skills. There are 4 lessons per unit and 16 units in the book. We were able to leisurely, but solidly study themes such as Texture, Form, and Value with two weeks devoted to each unit. There were some lessons that my students wanted to repeat a bit until they felt they "got it", so our units sometimes take longer than 2 weeks.
Units include excellent drawing instruction and explanation, but so much more than that. Every unit expands students' art vocabulary, helps them make real-world connections, provides exposure to Art Appreciation and Art History, and helps them incorporate all of their new knowledge into their own works of art.
My favorite lessons were the Art Appreciation and Art History lessons. This is taught in the second lesson of each unit and it is fascinating! Did you know that Medieval art was so full and busy because it told a story? For example, the piece below is much more than a painting of a knight by an artist with an eye for detail; the details in the painting are full of symbolism that would have been recognized by medieval contemporaries, but mostly lost on modern viewers without research. The detail of a hawk catching a heron in the sky tells viewers that the knight was killed by another knight. The ermine in the left corner represents purity. The dog at the right represents loyalty. I find this fascinating.
I also appreciate that the book is written directly to the student. It guides them through their lessons and the The book is author becomes their teacher. The assignment instructions for each lesson are written in red, making it easy for parents to look back at work and see the original assignment. But the assignments are so interesting, I went ahead and read the lessons with them. There is also a rubric in the back, which is invaluable to a non-artsy type like myself. It helps parents know how to evaluate their student's art.
The book costs $47.95, which is more than reasonable for a full-credit, quality art course. More art materials are required to complete the lessons and they are
listed on the website
as well as in the book. The supplies are reasonable, though some of them were new to us. We were art illiterate before this book and had never heard of "stick vine charcoal". The author recommends Dick Blick art supply, though any art supply store or even Amazon will have the necessary supplies. ARTistic Pursuits also offers
very convenient Art Packs
, perfectly designed for each individual book. These are competitively priced and very handy.
This is an excellent program, providing good instruction without the pressure of perfection. It allows students to relax and pursue art with knowledge
and
with their unique level of passion. It is available for all ages, from Pre-K through High School.

Disclaimer: I received this material in exchange for my honest opinion as a member of the TOS Crew, and received no other form of compensation. For whatever they're worth, the opinions are mine and mine alone, as stated in my
disclosure policy.
I'm pretty sure you knew all of that, but FTC Regulations really like me to make sure you got it.