A while back, we
enjoyed a shipment of games
from Alphabet Alley. It was almost 5 months ago and we are most certainly enjoying those games still. They have held up good-as-new despite the constant wear on them. I'm
still
very impressed.
We were sent another great product for the girls to enjoy: a Magnet Baby Playset. It is absolutely adorable. My girls love to play pretend with baby dolls.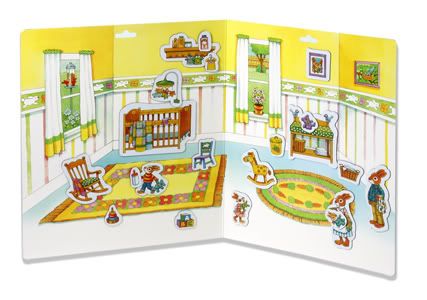 This is a fun on-the-go toy for them to enjoy. It looks like the good old Colorforms of our youth, but is much more sturdy. The magnets are STRONG but the forms are thick, making it easy for little fingers to lift them off and arrange to their delight. While fun for play at home, especially if you're hunting for something to occupy a busy toddler during school hours, I held this aside as a travel toy to keep my girls occupied during doctor visits and such.
Unfortunately, these are no longer available due to the new law on pthalates recently put into effect. The product met the previous standards, but can no longer sell their stock of this particular product under the new standards. However,
Alphabet Alley
is still stocked with many other excellent products.
And, as adorable as these products are online, they rae even cuter in person. I'm anxious to see their new summer stock.
Alphabet Alley
has 6 brand new products coming out and I'm sure we'll be adding some to our collection.