In the online homeschool community, there are many abbreviations. TOG, SOTW, SWR, BJU, MFW, CLE, CGC, LLTL, C3PO....the list goes on. Okay, C3PO isn't really a curriculum abbreviation, but TOG, for the uninitiated, is
Tapestry of Grace
...a legendary history program in curriculum circles.
TOG
has been in the process of switching over to a
Digital Edition
. I received a digital download of a history unit of my choice to review. There are four units of history within each history year. This is handy because you are able to jump in to any history section you are studying without having much overlap or gap and also handy because you haven't wasted the money for a whole year if you decide you don't want the product.
Tapestry will tell you it is much more than a history program, it is a humanities program. It includes:
* History
* Church History
* Literature
* Geography
* Fine Arts
* Government
* Philosophy
* Writing & Composition
It is a guided plan for your lessons. Each week includes roughly 75 pages of plans, notes, and conversation outlines. I began by printing all of this and reading through everything. Overwhelming, to say the least. The printing alone was extremely time consuming, not to mention the effect on paper and ink. When I realized it was for one week's worth only, I nearly had a conniption. But then, the wonderful Kristen emailed me a breath of fresh air. She has used
Tapestry of Grace
for a while and helped me realize that I really just needed to print the reading list, the weekly overview, and the writing assignments. There are sometimes worksheets that can be printed as well. The rest is background information; helpful but not necessary to get through the week.
Tapestry lists top quality books and guides students through a classical education with emphasis in a strong biblical worldview. Quality books, quality education, with a Christian foundation....these have always been my educational goals. So why am I not in love with this program?
First (and I hate to sound like a cheapskate here, but it simply must be faced) is the price. For the
digital edition
, the price is $45.00 per unit. There are 4 units per school year. That totals $180.00 for one school year's
plans
. Just the plans. And the plans are NOT to be resold. You would still need to purchase the books and cover the cost of the printing. The books recommended for one unit only, in my boys' age group, for year 3 total over $1000.00. I have access to an excellent library in a city with a large population of classical homeschoolers and yet less than half of these books were available without using inter-library loan.
The justification is that you will see the benefit as your children reach the older age brackets. You have an exceptional collection of books that are reusable for younger siblings. The many extra pages of notes that come with each week's lesson plans are also more of a benefit to parents when their children reach the older age brackets. Parents can read the notes and be caught up with what their children are all studying without having to read the books with their children. The beauty of the program is that you can teach multiple age groups the same subject matter at a level that suits their abilities, all at the same time. The family can learn together, though they learn uniquely. However, that is a LOT of money for a history program....and to me, it IS just a history program. It sounds so nice to call it a humanities program, but I fail to see how any history program could be considered complete without including everything mentioned in their list. My boys have apparently studied "the humanities" for years, we just called it history. And this is one expensive history program.
But let's say you have access to these books and you have many students of multiple age groups, so the one time fee for an expensive history program will be offset by the use you will get out of it. Once you've purchased all four volumes, you have what you need for all 12 years of school, and can teach all of your kids from the same curriculum.
I still don't care for it.
The lessons were somewhat rigorous, but the boys were able to complete their own reading assignments and still had time to swap books and read their brother's reading assignments for the week. Subject matter seemed so disjointed, our weeks just didn't flow well. Week one instructed us to review the presidency of John Adams while reading about the presidency of George Washington in our history book. Our family read-aloud was about the voyage of Lewis and Clarke under the presidency of Thomas Jefferson. But the main focus of the week was the rise of Napoleon, with a review of the French Revolution. Can you say
confusing
?
History lost it's story feel. We did not transport back in time and become engulfed in the lives and stories of anyone. We just learned.
Geography instructed the students to define geographical terms such as peninsula, isthmus, archipelago, and estuary. Excellent material to study, but again, not flowing with the history assignments. We covered this geography lesson with our science/history year 2 as we studied exploration and discoveries. For year 3 studies, we've been studying continents, countries, and states as the focus of history becomes more localized and we come across them in our lessons.
The "Writing and Composition" that is included with week one of this program consists of vague instructions such as "Learn about nouns" and "Define the eight parts of speech". This does not fall under the heading of 'complete curriculum'. I would definitely back this up with an outside grammar program.
The history itself does not follow the commonly accepted timeline for a classical 4-year history rotation. Keep this in mind if you are trying to fit it into your trivium studies. We were studying year 3, Early Modern Times, roughly 1600 to 1850. We were nearly to the end of this study before beginning our sampling of
Tapestry of Grace
. To stay in order with our current schedule, I had to choose the very first unit of their Year 3 which starts out with the beginning of the 19th century.
The scheduling is weekly, not daily as with other similar programs. You would think, with my rebellious, independent nature that I would appreciate this facet. However, it was difficult to design the week,
not knowing where we were going
with everything. If I had known that the first 7 chapters of our history book were about George Washington, I'd have saved our recommended John Adams discussion until chapter 8, which was about John Adams, wonder of wonders. If I had realized where were going with it, I would have saved our Jefferson read aloud portions (which only took one night instead of the week they were allotted) until we reached the week that Jefferson was introduced. As strange as it sounds, it actually felt as if I had much more flexibility with Sonlight's daily schedule than Tapestry's weekly schedule. This all goes back to the flow of the program.
Finally, the format....is digital. While it is nice to know that you can reprint a page if you spill coffee on it, it is not nice to cuddle up with on the couch to refresh your memory of history events. It is not handy for spreading books out on the table and laying out your week. It's good for squinting at a screen and trying to remember what was in that paragraph 3 pages back when you really wished you could scrawl notes in the margin.
Aside from my thoughts on the matter, the boys still enjoyed the month we spent using Tapestry of Grace. An activity was suggested to go with those geography definitions, and we followed their instructions for a salt map: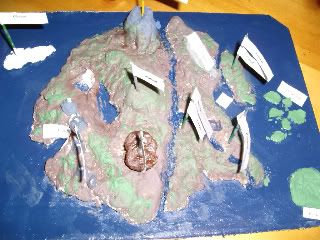 Each of the boys enjoyed trying their hands at their own inventions. Ethan worked on a candy dispenser: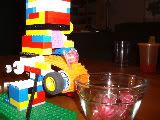 Joel worked on a dicing tool, though the prototype is made of plastic and does not include the sharp blades Joel wants to eventually use. We'll see. It may not look overly impressive, but his plans for the final results are terrifying.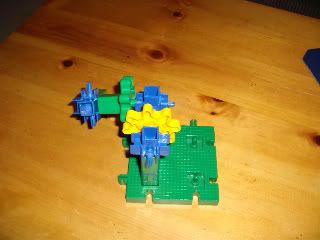 As much as they enjoyed these activities, the boys were very relieved to hear that we would be going back to Sonlight after one more week of TOG. I had wondered what their reaction would be. TOG has more hands-on scheduled in than Sonlight, but we'd hardly need a curriculum outline to inspire my boys to want to invent something after reading Diary of an American Boy or about Eli Whitney. They had their inventions finished before I'd even read that I was supposed to assign anything.
So, if you have a passle of children, have no interest in compiling activities on your own, and have the money for an up front investment.....you truly might love this program. If you do, be sure to check out the
Pop Quiz accessory
. It enables dad to participate in family discussion without being directly involved in the school day. A cd lets dad hear a summary of the week's lesson while quiz cards contain question-prompts to help dad guide dinner time discussions.
If you have fewer children, are able to google an activity that goes along with subjects your children are studying, and want to save some money....pass. There are many free layouts online that can guide you in choosing quality literature with complimentary activities. Or you could invest the same amount of money and have a Sonlight schedule that comes
with
the books. If you really, really want to use Tapestry but don't have the money, google the booklists. They're all over the place.
I have made my self sick, hating that I couldn't get around giving TOG a less than complimentary review. And seriously, have I ever written such a long,
rambling
review before? I've lost a lot of sleep trying to convince myself that I liked it.
I once heard Marcia Sommersville speak at a homeschool conference and became an instant fan. She spoke on attitudes of the mom and had me scrawling pages of notes and crying like a baby. I rarely bother conference speakers, but HAD to talk to her afterwards and let her know how she'd blessed me. I just knew that I had to try
Tapestry of Grace
someday. I was certain I would love it. But now I know. I love reading what my kids are reading. I don't need pages of notes. I love investigating and and compiling activities. I love to spend time on the couch, reading together. I love to spend time at the table, learning together. I fought it and fought it, but there is no getting around the fact that Tapestry of Grace is just not for me.
If you'd like to give it a whirl, check out their
free sample
. For more thoughts on Tapestry of Grace DE, check out The Old Schoolhouse Magazine's
Review Crew blog
.