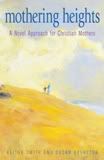 Mothering Heights: A Novel Approach for Christian Mothers
by Keitha Smith and Susan Brereton.
Though I've been parenting for over 12 years now and have read many, many books on the topic, I never get tired of reading encouraging parenting books. I think it's important to help me stay on task, to never slip into a rut and take things for granted, and to help me get better (I still have a long way to go.) Thus, I happily volunteered to review a book specifically on "mothering". The book turned out to be quite a bit different than I was expecting, but encouraging nonetheless.
Mothering Heights is not a blueprint for being a mom, it's more of a guide to helping moms establish their personal parenting philosophies. It does not endorse one philosophy over another and does not judge parenting choices, rather, it helps new moms to be aware of the choices that lie ahead and to consider what fits individual families best. The authors always lead these decisions back to God's word. It is an excellent resource for new moms, particularly those still expecting. For moms with children over the age of 4, it could still be helpful, but much less so because so much of our philosophies have been determined through trial and error at that point. But, oh! to have them determined at the beginning of the game! I will be giving my copy to a pregnant friend.
The book's description of being "a novel approach" is a play on words. The book is peppered with quotes from favorite classics such as Pride and Prejudice, Great Expectations, Pilgrim's Progress, and many more. The quotes are so timely and made me smile. Chapter titles were apt book titles. It was a clever addition to an encouraging book.
Expectations were a strong theme throughout the book; our expectations for our families, our expectations for and from our spouses, expectations from our parents, our expectations of God and God's expectations of us. Each was discussed with insight and sensitivity. Chapters ended with practical prompts and questions.
So, no, it wasn't what I was expecting and it wasn't hitting where I'm walking right now, but it is an excellent resource for new moms and would make an appreciated gift for expectant new mothers.
A
sample chapter
is available for review on the Mothering Heights website.
*Disclosure:
Mama Buzz and reviewers received a complimentary copy of Mothering Heights for review purposes.