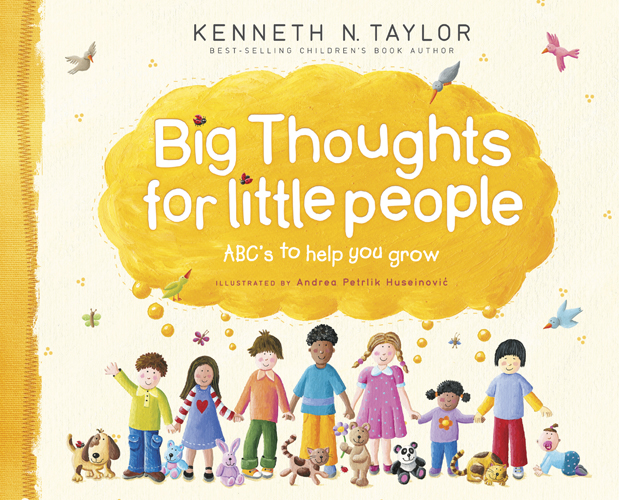 Years ago, I began reading Big Thoughts for Little People to each of my children during their sweet toddler years. My first toddler is now a booming pre-teen boy, but his ears still perk and he often finds a way to sneak over to listen as I begin reading this treasure to his littlest sister. This new edition from Tyndale House is even more endearing than before.
Each devotion begins with a short poem beginning with a letter from the alphabet. The poems highlight what the lesson is teaching, such as "Q is for quarrel. Each wants the first turn. But waiting for others is not hard to learn." Following the poem is a discussion paragraph for the picture that goes with the lesson. Lessons are on the left page, while a cheery, beautiful painting is on the right for the child to examine. Each picture is filled with children, animals, and toys playing nicely (or not so nicely) together. The scenes are discussed and explained and children are prompted to think about what's going on, to examine how things happen in their lives, and to consider solutions. And finally, a very fitting scripture verse is shared.
Big Thoughts for Little People is a sweet, effective tool for looking at God's Word and teaching children how to apply it. Written for children aged 3-7, I've yet to meet a two year old who didn't love cuddling up with this book and, as I said, even my 12 year old can't seem to stay away. It is a treasure I will be holding on to and sharing with my grandchildren some day.
Tyndale House Publishers, Inc
has been so kind as to donate a copy of
Big Thoughts for Little People
by Kenneth N. Taylor to one of my readers! To enter your name in the drawing, all you need to do is leave a comment. Next Monday, my random number generator (Ethan) will choose a number - that commenter will be our winner. I will notify you on Tuesday through your blog or through your email if you win.
*If you could share a title of your favorite devotional to use with kids (of any ages) I would LOVE to see more ideas!