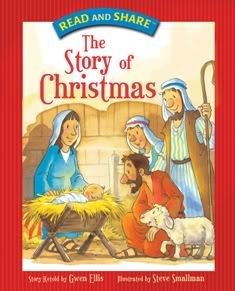 I know it's early, but we found a great addition to our Advent celebrations this year.
The Story of Christmas
by Gwen Ellis is a sweet book written for 4-7 year olds and my girls have loved it. The book begins with the story of Zechariah, told simply but sweetly for little ears. Each 2 page spread also includes a little discussion box to help listeners become involved with the story. It progresses through the Christmas story, the escape to Egypt, and the return home. Very well done. Few children's Christmas story books cover the entire story so simply or so thoroughly.
The illustrations are delightful, though the noses really seemed to stand out on the characters...a small thing for most, but very distracting for me. Happily, my daughters don't seem to suffer from my hang-ups.
While the girls enjoyed reading the book, their favorite part of this book is the fact that it came with a DVD with bible stories about the life of Jesus. The animated DVD is as endearing as the book and runs for 17 minutes. The DVD is also a DVD-ROM and includes coloring pages!
I'm shelving the book for now, but it will only be a few more weeks before we pull it out again for Christmas!
*Disclosure: Mama Buzz and reviewers, received a complimentary copy of this book for review purposes.