It really is a
clean slate
, isn't it? I can't help but be excited at this time each year. I start hunting up organization labels, such as those found
HERE
and
HERE
. I sign up for encouraging challenges such as this one
HERE
. I download a new
Chore Planner
. I check out books from the library such as the ones I'm reading HERE:
I redesign my blog, I revamp my school plans, I burst with the adrenaline of a new challenge.
This year, I have so many things I want to do differently that I'm feeling a little overwhelmed. Simplify. Simplify. Simplify. It's my mantra each year and if my house were a clean slate, I think it would be easy enough to accomplish, but starting a new mindset with old clutter is....blech. It's just blechy.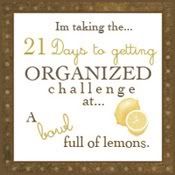 This year, I'm excited about the challenege at
A Bowl Full of Lemons.
The timing couldn't be better for me. And yet, I fear failure. I don't have an area of my life that couldn't use re-evaluating right now. I feel encouraged that I am at least at a point now where I know exactly what my ideal end-result looks like. In the past, I've vaguely knew that things needed to be better and that my life should look more like....what? I couldn't tell you. But I can now. Now I know that it is a purposeful, quiet, simple life. Sweet and simple. The idea no longer bores me, it excites me. I think I've spent the last several years fearing that boredom would set in if I ever actually accomplished my goals. I know differently now.
I am stamping out that voice of fear by remembering that it doesn't really matter if I meet my various challenges or scratch my to-do's off my list. The only thing that can actually change who I am at my very core is Christ. These methods which I can't seem to help but explore each January may give me ideas and inspirations, but they are not able to change me. If I fail at everything else, I will not fail if I focus on getting to know my God. Draw near to Me and I will draw near to you, He promises. I'm drawing near.