While not always fun, drill is an important part of fully learning basic math skills. A helpful tool for drill is to use computer games. These are much more fun than your standard drill worksheet and seem to get the job done. My family was recently given a program called
Cap Jax Math Fax
to review. What is Cap Jax Math Fax? Obviously not a spelling program. No, CapJaxMathFax is a math program that takes students through the four basic skills of addition, subtractions, multiplication, and division.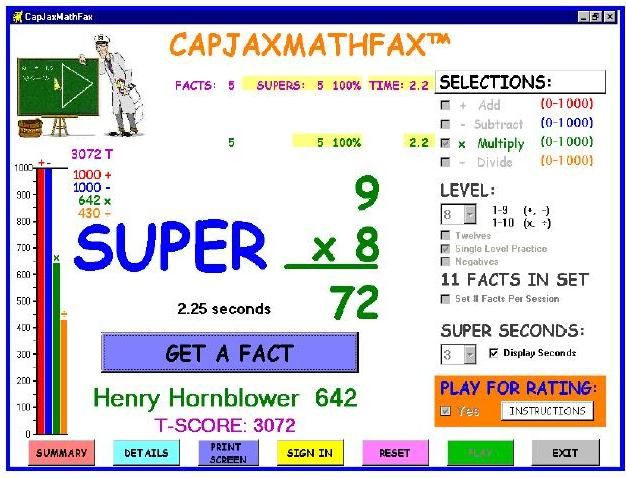 As you can see from the screen shot, the program is a little busy. And the graphics are, well, you can see them. Most kids don't really mind these things though, so let's discuss what they have to offer.
From the website:
| | |
| --- | --- |
| Does the program address the full range of computation from addition to division? | |
| Does the program address computation with negative as well as positive values? | |
| Will my student clearly understand the objectives of the program? | |
| Is there positive feedback for my student to enjoy working with the program? | |
| Is feedback immediate? | |
| Does the program allow me to monitor my student's performance over time? | |
| Will the program work at my student's best pace for learning? | |
| Will my student succeed at a rate that is challenging, but not frustrating? | |
| Does the program allow time for my student to reflect on his or her work? | |
| Does the program use timing in a way that that minimizes pressure? | |
| Does the program provide printed reports of my student's success? | |
| Does the program provide graphical reports of success and progress? | |
The heading above this chart says to
"
Use this checklist to compare CapJax to the alternatives"

.
Please do
. There are several alternatives to compare, such as drill worksheets and dozens of free math programs found online.
The following paragraph on the website discusses the price:
For some, the question still remains - Is CapJax worth the money? It's the wrong question. A better one is - Is one more day of struggling with math studies worth the cost of a couple of movies.
[sic]
Or if the learner is just getting started, you could ask - Is this the time to gamble on getting my student off to the best possible start in math? Won't a solid investment now get paid back over and over as success feeds success from one year to the next?
The stakes are high. Isn't it worth giving your students the best chances available?
And if reading that doesn't make you laugh out loud, you might need more coffee. The stakes are high, people. And if you don't make the gamble and purchase this program, your student will be relegated to flipping burgers and never allowed to work the checkout counter because his mom didn't think his math struggles were worth the cost of a couple movies.
It's taking some self-control, but I'm going to refrain from poking fun at the website propaganda and go on with this review.
Aside from being visually distracting, the sound effects are terrible. Each time you answer a question, you hear a loud ding. This ding is the exact same annoying sound our computer makes when we hit a wrong key. It's an obnoxious noise that is generally associated with making mistakes, making the student somehow feel bad for getting the right answer. Or the wrong answer. It doesn't matter. It always makes the same noise.
Teachers can choose parameters for the game (skills covered, time for answers, etc.) but I don't know that it matters if you can't get your student to ever play the game a second time. If they do continue playing, they can earn merit badges (an extra $4.00) as they progress through the program. It is very easy to install and start "playing".
The gamble cost for this program is $29.95. And if you're still wondering if it's worth it, you're asking the wrong question. You can sample CapJax for free using a free trial version. I'd really love to hear what you think of it.
My family will not be playing the game anymore, but we will definitely be spending some time on the company website as we continue our entertaining studies of logic and fallacies this summer.
And if that doesn't sell it...you might have had a few logic lessons yourself. For kinder reviews of this program, be sure to check out The Crew Blog.
Disclaimer: I received this material in exchange for my honest opinion as a member of the TOS Crew, and received no other form of compensation. For whatever they're worth, the opinions are mine and mine alone, as stated in my disclosure policy.