The website's real name is
Library and Educational Services
, but it's URL refers it to LibraryandEd.com and it always makes me chuckle. When I need a new book, I "check with Ed" first. My family has used this website for years and have always been able to find some great deals with them. I signed up for the email newsletter so I could get notices every time there is a great sale going on. There are some incredible sales several times a year, but even without the sales, the prices are very nice.
Sometimes, I add too many items to my cart and have to hold them in my wishlist folder so that I can wait a few days to determine whether or not I really neeeeeeed the books. Other times, I only find one or two items that thrill me and I leave those in a wishlist folder while I wait for some other great finds to come up and combine orders to save on shipping. Because I pinch pennies till they cry.
Most recently, I've had the opportunity to review two DVD's from the
science series
from Go Science LLC. These are Christian based series that include:
Motion: Discovering the Laws of Gravity and Motion
Simple Machines: Sound and Weather
Magnetism, Engineering, Electricity, and Design
Chemistry, States of Matter, and Life Sciences
Air and Flight
Water, Space, and the Solar System
My family chose Water, Space, and the Solar System as well as Motion: Discovering the Laws of Gravity and Motion because we are studying Astronomy this year and I thought it would make a fun addition to our days. It turned out to be a nice addition for the younger two, but just too childish for the older two. The host, Ben Roy, speaks like a very energetic children's pastor. His tone carries as if he's speaking to preschool children. My 6 and 8 year old like it, but I don't think a child over the age of 10 would care for it. His excitement is kind of contagious though, so I might be wrong. All of the lessons are presented with a Christian point of view and the science is FUN. The lessons do not go into depth at all, and are more to inspire an excitement about science than a true understanding.
Volume 6: Water, Space, & Solar System has fun demonstrations:
make water disappear
boil water in a paper cup
properites of water
floating blals
as cold as outer space
make a rocket
living in space
solar system
centripetal force
Ben Roy teaches it all as fun magic tricks done with science, and God at work behind it all.
Volume 1: Motion demonstrates various concepts through experiments using:
I love that Ben Roy brings everything back to God. With the Newtonian Cradle, he taught that 'every action has an equal and opposite reaction'. And then he pointed out that it works the same way in our lives and that we need to be careful what we allow into our hearts. With the gyroscope, he taught that it steadied objects and pointed out that God does the same for our lives. Godly principles were shared as matter-of-factly as the laws of science and I really appreciated that.

You can purchase any DVD in the set for $8.97 or you can purchase the entire 6-volume series for $47.95.


Sample Video (click the red box) :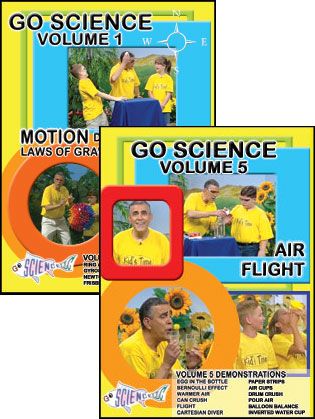 *I just hopped over for a peek at the LibraryandEd website and its inventory is probably the lowest I've ever seen it. I have followed them for years though and can tell you that their selection is always changing and you won't be disappointed if you subscribe to their email list.
For more reviews of this company, be sure to visit The Old Schoolhouse Magazine's
TOS Crew
.
Disclaimer: I received this material in exchange for my honest opinion as a member of the TOS Crew, and received no other form of compensation. For whatever they're worth, the opinions are mine and mine alone, as stated in my disclosure policy.