I'm embarrassed to admit it, but my boys have barely had any exposure to formal writing lessons. We've worked through grammar lessons for years and it gave occasional writing assignments. I've had them write narrations since they were able to put pen to paper. But we've never done a course on it and honestly, their writing stinks. They know grammar rules and can ace every grammar test, but they make plenty of mistakes when sitting down to write an essay. Also, it's just poor writing. They are 12 and 15 and too old to be writing like 4th graders. They have incredible thoughts and ideas. These ideas will be dismissed by any reader if they present them with their current writing styles. This year, we're fixing it.
How to Write a Paragraph
. This is a 16-page book that helps students to truly
master
the formula for a good paragraph. It takes them through 11 simple steps that really seem like magic. The key step, to me, is Step 5: The Prewrite. It's an easy, beautiful thing that is going to really boost my students' confidence. Once the basics are down, Step 7 begins the second half of the book and it helps students begin to improve their paragraph writing. In addition to the 16 pages of lessons, there is an appendix which includes a couple helpful worksheets.
For younger students, paragraph writing will be an ongoing process with enjoyable lessons. It could be stretched to 11 weeks for 11 lessons or just 11 days. Students will still need to begin each school year with the book again to reestablish that foundation of writing. For older students, I do not anticipate this book taking longer than one or two classes and a few homework assignments.
After completing How to Write a Paragraph, the
Action Plan
directs students to
Writing Tricks Plus,
which is not one of the books I was sent to review. However, after conquering the paragraph, they should be ready to move on to
How to Teach the Five-Paragraph Essay
, which teaches students from grades 4th through 12th to write essays they can be proud of. It teaches the basic format of a five-paragraph essay and then it teaches important improvements such as Interesting Introductions, Smooth Transitions, Classy Conclusions, and more.
Once students have mastered the basics and developed some skill in making it interesting, they are introduced to the idea of using the basic format to create any kind of writing they might face, be it a persuasive argument, a research report, a fiction story, or a letter to a friend. These domains aren't taught comprehensively, but students are definitely given a basic understanding of them. This ebook includes 36 pages of lessons and 21 pages of helpful forms and examples in the appendix.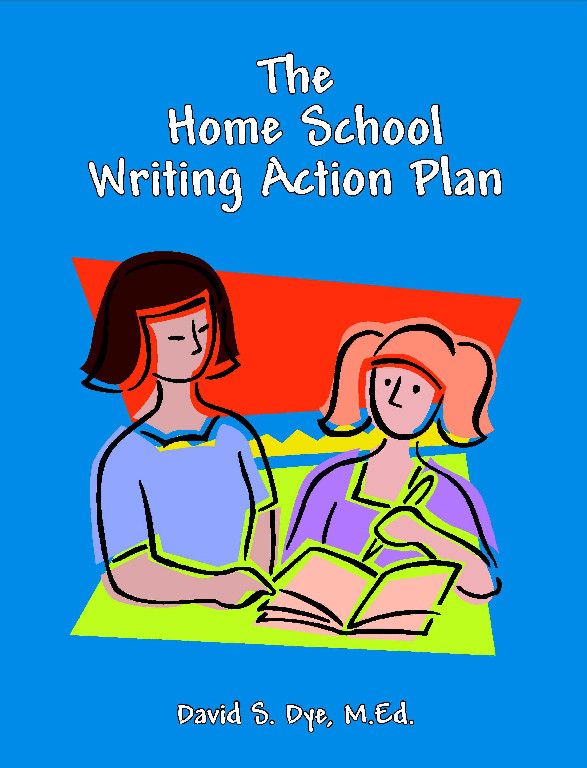 The Homeschool Writing Action Plan is a 54-page guide that organizes all of the lessons in the various books offered by the publisher into practical plans for the teacher. It includes outlines to show how to pace the program differently depending on when you introduce it, be it 3rd grade or 9th grade. It helps you manage the lessons for multiple ages and skill levels at the same time. It also includes great ideas for reinforcing tips and tricks for better writing and for journal writing assignments. This is a very helpful addition to the other books, but it is not a writing curriculum in itself. Think of it as a road map.
The beauty of this course is that it is intended for all skill levels, from 3rd grade to 12th grade, and is not listed by grade. Some of the boys in this class are going to be sophomores. It would completely destroy their self-esteem to hear that they were starting over with 3rd grade basics, and with this, they never need to know. The book suggests that all ages begin with the basics and says that older students can generally work through these easier lessons within just a couple weeks.
The pricing is very reasonable, especially when you consider that it will take them into high school.
How to Teach the Paragraph
ebook: $7.99 or Free with the purchase of How to Teach the Five Paragraph Essay or Complete Writing Program.
How to Teach the 5 Paragraph Essay
ebook: $17.95 (available as a softcover for $2 more) This book is free with the purchase of The Complete Writing Program.
The Complete Writing Program
(not reviewed here): $54.80
Homeschool Writing Action Plan
ebook: $15.95
The books are brief and simple and don't generally fit my definition of a rigorous education, but this is an area that my little math and science nerds need to quickly catch up on. I hope to finish all of the lessons in one semester and have my students prepared to study rhetoric next year. I realize that isn't the author's intention, but I don't see any reason why it shouldn't work. I'm very relieved to have found this!
Check out how it's working for other Crew members: