Classical Academic Press
has been a blessing to my family once more, this time in the form of their Bible Study for children,
God's Great Covenant 1
, Old Testament. This is a book that we used many, many years ago with my now 13-year old son. He loved having his own Bible study and we went on to use the New Testament Study, which I
reviewed last year
. Now, it's his baby sister's turn to begin her own Bible Study.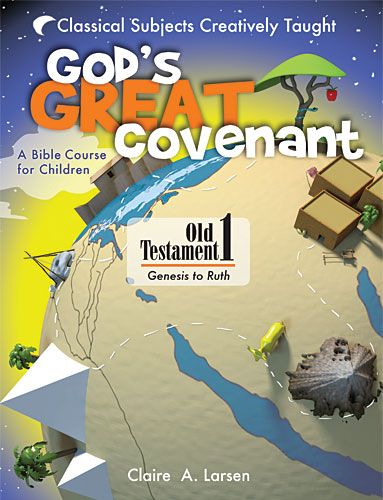 God's Great Covenant is written for students in grades 3rd through 6th. The content is not at all too childish for a 6th grader and not too difficult for a 3rd grader. The author, Claire Larsen, knows her audience well. She does not speak down to them and she doesn't waste time with "how does this make you feel" or "what should Bobby do" type questions. It is not a devotional, but a study of the Bible.
The Student Book
begins with the creation story in the book of Genesis and proceeds through the Book of Ruth. The book includes 32 chapters, to be completed at the rate of about one chapter per week. These chapters are divided into 5 units, which help flesh out biblical themes.
In Unit 1, students learn about
God's Power
, with chapters about creation, the fall, the flood, and the tower of Babel.
In Unit 2, students learn about
God's Promises
, with chapters about the patriarchs from Abraham to Joseph.
In Unit 3, students learn about
God's Redemption
, with chapters about the Exodus from Egypt, from the calling of Moses to the idolatry in the wilderness.
In Unit 4, students learn about
God's Provision
, with chapters about the 40 years in the wilderness, from the building of the Tabernacle to the preparation to enter Canaan.
In Unit 5, students learn about
God's Faithfulness
, with chapters about the days of Judges, a chapter about Ruth, and a chapter about Job.
Every chapter includes:
Read to Me
- a Bible reading assignment
Memory Verse
- each chapter has a new verse chosen from the reading portion.
Key Facts
- a chart or list of facts being taught
Things to Remember
- includes important vocabulary words.
Next, is a reading portion, which is a synopsis and explanation of the Bible reading assignment. After this, there are a few pages of worksheets and a quiz. These are mostly fill-in-the-blank, multiple choice, and matching assignments. Every fifth chapter is a review of the previous four chapters. For younger students or reluctant writers, these worksheets and quizzes could be completed through a verbal narration time
My daughter, Honor has
loved
doing this study. I've had to slow her down from working ahead several times now. She also loves doodling in the margins: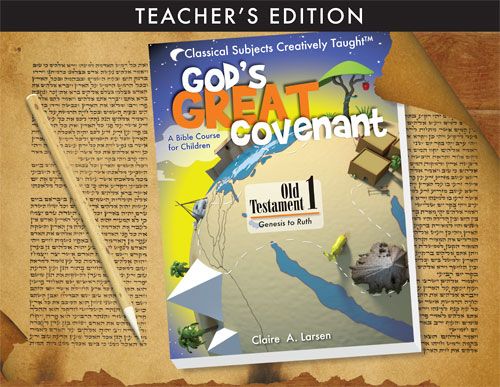 The
Teacher's Edition
includes a copy of everything in the student book, with answers filled in for grading. This is handy for grading, obviously, but the book includes so much more. The margins include excellent notes that break down the student reading portions even more. This is great for deeper discussions with students. It also makes a great study for parents. I love to read these notes with their explanations of the Greek, Hebrew, and Latin roots to the material and its history. Another beautiful feature of the Teacher's Edition is the pairing of applicable catechism questions with lessons being taught. The
shorter catechism for young children
is used, but not necessarily for memorizing. Sometimes only a couple questions are introduced, sometimes 9 questions are introduced in one chapter. We use a different catechism with our family devotion time and I love that the Teacher's Edition includes plenty of spaces for notes so that I can write these in and review them as they match our lessons.
The
MP3 files
are a new-to-us feature and we loved them! Students can listen to the reading portion of each chapter and follow along in their book or listen and fill in the accompanying worksheet pages. Christopher Perrin is the narrator for these pages. His is a familiar voice to our family through our many years of using Classical Academic Press products and it is like listening to a family friend reading to us. This would be great to listen to, even if you never used the Bible Studies. It would make a nice Bible Story CD to listen to in the car or as children fall asleep.
Pricing:
Student Book
$22.95

Disclaimer: I received this material in exchange for my honest opinion as a member of the TOS Crew, and received no other form of compensation. For whatever they're worth, the opinions are mine and mine alone, as stated in my
disclosure policy.
I'm pretty sure you knew all of that, but FTC Regulations really like me to make sure you got it.