I may have mentioned before that I am a book snob when it comes to my kids. I research and research until I'm certain I have the best of the best book lists for my kids assigned reading. I deeply desire for them to love quality literature. They read the books I hand them happily enough, but when they pick up a book of their own accord...they grab comic books. At first, I was devastated. I didn't even think they qualified as books. Over time, I've seen a few that have surprised me. I have come to appreciate certain qualities in them. In fact, I even volunteered to receive a set of graphic novels to review. I am so glad that I did.
Timberdoodle
(one of my favorite places) offers a set of history based graphic novels! The set is called "
Stories From History
" and includes 11 graphic novels.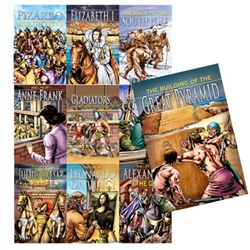 Timberdoodle
actually carries quite a few different topics in
Graphic Novels,
including Shakespeare, Biographies, Disasters in History, and much more.
The Stories From History series we received includes:
I was curious to see how the boys would react. Would I have to assign the books as history reading? Would they think I was trying to sneak schoolwork onto them? (I was.) So when I hollered, "Boys, grab a book for the car ride!" I was thrilled to see them both grab from this stack. Ethan snatched up the gladiators book and Joel grabbed Julius Caesar.
Prior to that drive, I still had reservations that I might be dumbing down history for them. No longer. As we travelled, Joel piped up about every 30 seconds with "What does 'p-a-t-r-i-c-i-a-n' mean?" "What's a plebian?" "How do you pronounce triumvirate?"
Why, yes. I am a fan of graphic novels.
Ethan has eaten these up. Joel has chewed more carefully. Both have loved these. And if grandparents are still at a loss on what to get them, Ethan requested anything from the
Classics list
and Joel jumped up and down with glee when he saw the
Science list
.
The history set is offered at an incredible price of $16.95 right now for the holidays. That averages $1.50 per book, which is incredible because they usually sell for nearly $7.00 apiece and are well worth that.
For more thoughts on these books, check out MamaBuzz.